Internet Marketing
For affiliate and Internet Marketing news, help and methodolgies, check out my Internet Marketing Help blog.
Managing Social Media Campaigns
The internet has become a primary source of advertisement for many people. It offers low-cost and sometimes free methods to promote products and services for businesses. There are many different ways to advertise through the internet, and one of them involves the use of social media.
Managing social media campaigns has now become a necessary pursuit for any online marketer.
---
Secure Your Wordpress Blogs And Profits From Hackers And Bots
I know many SiteBuilder Elite owners also run WordPress blogs (like myself). Hacking of WordPress blogs is becoming a major problem, as I've outlined in my Repairing a Hacked WordPress Blog report.
Ok, let me throw some WordPress statistics at you...
---
SiteBuilder Elite Version 4.4.01 Released
SiteBuilder Elite is a website builder I created specifically for affiliate marketers back in 2007. Since then it has undergone a number of revisions and now (Dec. 10, 2012), the latest version of the software has been released.
The software makes it easy to build websites, even if you've never built a website before. It's all pretty much point-and-click stuff and you don't need to know any HTML, Javascript or PHP to build a working site. The software will even download articles and images to populate your pages with.
This new version even integrates with Jonathan Leger's Article Builder so you can get unique articles added to your pages as you build your site. And you can add an image slider at several locations on your pages - showcase your products, display pretty images, display ads, whatever you want.
You have full control over how the site looks and can change things at any time. Settings are site-wide and applied immediately. Adsense and Chitika are integrated into the software but there's also a mode that allows you to display ads from whatever ad network you want.
SiteBuilder Elite has an extensive set of features which are all detailed on the sales page and the manual is online here (it was built with SiteBuilder Elite).
Here' what one long-standing customer had tosay about the software:
Hi Gary,

I said it before but I have to say it again. Every so often I would get this urge to search for a script that would work better for my project at the time and every time I would get back to SiteBuilder Elite. It feels so familiar yet so surprising each time. I always discover some new feature that none of the other scripts would have. Then there is a great deal of customisation that I can play with and make my site really unique. Everything works just like the manual said and that reliability is what I need in a script. With a little imagination, one can really make a website that stands out yet be very simple to maintain.

The first time I bought SBE3 I was very sceptical. After a short period of time and many great sites, I realised that I simply love this script. Next time around, when SBE4 was about to get released, I could hardly wait, holding my money, ready to purchase it. This time around I knew I was getting a great deal and again, I was surprised even more to find out that it was better then expected.

Thanks Gary.

Cheers!

Neb
Check out what SiteBuilder Elite can do for you.
---
One Way I Use NicheReaper To Find Profitable Niches
I've had a few queries about how to use NicheReaper to find niches and keywords to build sites around. So here's a video I've just put together showing one of the ways I use it to find profitable niches:
There's a better quality video here if you'd prefer to see finer detail in the video.
---
Using Site Build It To Create Websites
Site Build It!is a system for building and promoting a website (and much more). It costs $299 per year per site. Expensive but worth the money as sites built with their system routinely rank in the top 3% of sites worldwide.
I built a site with them that pulls in $150-$200 per month in Adsense alone, so it provides at least a 600% return on investment. You can read a review of Site Build It! here: Site Build It! Review
---
Every 11 seconds, someone starts their own home business

The Home Based Business Directorywas designed to help and assist those people who want to start a legitimate online home business based around affiliate or internet marketing.


The products and opportunities you'll find listed on this site have been used by the site owner and are recommended from experience. Business opportunities are not exclusive and it's recommended that you join more than one to start building multiple streams of income.

Nothing in the affiliate marketing world is guaranteed. You need to be aware of that before you start swimming in this ocean. That said, It's possible to make a comfortable living online without too much effort. The reason multiple streams of income are recommended is so that if any one business disappears, you won't be left high and dry.

Successful affiliate marketers know that having multiple streams of income from different businesses is the key to making a stable online income. While one of the most lucrative ways of earning money online is through affiliate marketing, there are other ways of earning money online and some of those will be introduced from time to time.
---
Micro Niche Finder 5
Micro Niche Finder 5 has just been released and it's an incredibly easy and powerful tool for finding hot niches to get into.
Up until I started using this tool, I used to research niche ideas by looking around the house, in magazines, in shops, etc. It was time consuming and, because my imagination is limited, there were many niches that I never considered or researched, let alone thought of in the first place.
Researching the profit potential of a niche was time consuming and that didn't include any keyword research that needed to be done. Identify a niche first, and then do the keyword research was the plan.
But many times, the niche turned out not to be as good as anticipated. But that's how it goes - some you win and some you lose.
Now, with Micro Niche Finder, it's easier than ever to identify niches worth pursuing and, even better, niches to avoid.
James Jones and his team ran a webinar last night showing off the new edition of their software and how to use it to find hot niches. You can watch it here.
If you see a warning about a missing codec, you can download the missing G2M3 codec here:
https://www2.gotomeeting.com/codec
Micro Niche Finder is now my tool of choice for researching niches because it saves so much time. While it does provide keyword lists, it doesn't really replace traditional keyword research tools; rather, it's an additional tool to use to find niches on which you can then bring your keywords tools to bear.
If you want to skip the Micro Niche Finder webinar (though I recommend you watch it) and skip straight to the main site, you can do that here.
---
---
Google Sniper
A new system for earning from blogs, Google Sniper isn't about the monetization of blogs with Adsense or ads from other networks. Nor is it about drip-feeding blog posts over time.
Instead, with this course you'll discover how to craft tightly focused blogs that will rank well in Google, thereby getting lots of traffic. And traffic of course brings visitors who buy things from your site.
The beauty of this system is that you only need to do a small amount of site promotion. Blogs can be built quickly and then left running on autopilot while you go off and build another blog.
The system shows you how to select niches for your blogs, products to promote and how to tailor your blog posts to achieve the desired results.
---
Unique Article Wizard
Unique Article Wizard is a system for posting unique versions of your articles to hundreds of article directories.
If you've never thought of article marketing as a way of promoting your own products or services, or those you're an affiliate of, it's one of the most successful ways of getting the word out and attracting buying customers.
I've been using the system myself. Click here to read my review...
---
Crazy Domain Sales

When the time comes to set up your own internet business one of your first thoughts is to buy a domain name to establish a web site for your new business. You may spend a lot of time dreaming up possible names and testing their availability but there is another option you should consider -- buying an existing domain name.
It's easier than endlessly trying to come up with a good domain name only to find that someone else beat you to it and so you have to repeat the process again.
Crazy Domain Sales lets you locate and find domain names that are for sale on eBay. The site also offers domains that exclusively available from Crazy Domain Sales and newsletter subscribers get first dibs on newly available domains before they're offered to the public.
---
Flipping Domain Names for Quick Cash

Another way of earning online is through domain flipping. This is where you buy a domain for about ten bucks and resell it for a higher fee. Pick the right types of domain and profits can be huge. A return on investment (ROI) of 150% would be considered a low-end profit. A 150% return on any other type of investment would be considered miraculous!
The law of averages will tell you that not all domains will be profitable, but you can mitigate such domains by knowing what to look for when buying domain names for resale. The question is how do you find out this information.
Well, first off, download and read the free Domains Into Dollars report which explains more about domain flipping. Domains Into Dollars itself looks at long-term domain investing. If you're looking for a quicker turnaround on your domain properties, then Quick Cash Domaining is more suitable.
Whatever else happens in the internet/affiliate marketing world in the future, one thing's for certain: domains will still be needed for a long time to come and the better names will trade for higher prices as more people come online and set up websites and businesses. It's like property investing. People will always need houses (and domain names).
---
Adsense Secrets 4 Available For Free
Joel Comm recently released the 4th edition of his Adsense Secrets ebook. The first edition of Adsense Secrets was released back in 2005 and it quickly became the de facto Bible of Adsense publishing. This new 4th edition continues that trend.
Earlier editions of the ebook were a hefty $67-$97. Adsense Secrets 4 is FREE! Don't ask me why. Maybe Joel is doing an experiment. But, whatever the reason, grab your copy of Adsense Secrets 4 today while it's doesn't cost you a penny!
---
Site Build It!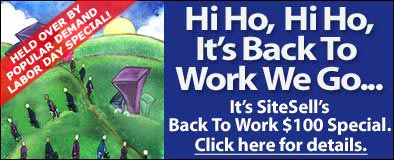 If you don't know what Site Build It is or have never heard of it, it's an online tool for building a website. If you can click a mouse, you can build a website.
But it does more, much, much more than just build a website. It offers a complete solution - brainstorming tools, seo optimization tools, automatic website submission to search engines and directories, mail out newsletters and more. Read my comprehensive review before you decide if it's for you.
What I will say is that the website I built with Site Build It, Great Landscape Photography is the one of my top-earning Adsense sites ($10+ every day). And I do nothing with the site. It just sits there, passively earning money each and every day...
---
Keyword Country Review
How would you like to have control of how much money you want from Google? Is it possible? Keyword Country claims to allow you to do just that, sorting the entire keyword list according to money you want per click from Google, and also letting you find the most niche keywords that exist on Planet Earth - keywords that get the most clicks; keywords that get most traffic online & much more.
So does Keyword Country live up to its bold claims?...Read the review here...
---
AdsenseClix
AdsenseClix provides a huge amount of information about Adsense and how to use it on your website(s) to make money. The true key to Adsense wealth is not through implementing it on one site, but on 10s, 100s or 1000s. And it's not as difficult as you might think...
Plus, you can get a free 15 page report on Adsense called "27 Adsense Secrets".
---
---
On these pages are what we believe are the very best affiliate marketing opportunities and products available today. New opportunities and product announcements are added at least every couple of days, so check back regularly.
---

Internet Marketing News

If you could create your own company for a niche market, what kind of company would you like to design?
10 points for best idea

Get the answers...


Can you sell products online rather than direct sales? (i.e door to door)?
Are there any companies such as Avon and Oriflame etc who allow you to sell online? As a mum looking to earn part time from home, I feel going around houses to deliver catalogs or holding parties isn't for me. I would be happy to deal with customers online and post the goods but want to work for a known company.

Get the answers...


My boss keeps texting me ";)" at the end of random sentences... Is this weird?
My employer will text me little messages about work and then end them in ";)" I'm not sure if he knows what that smiley connotes because he literally puts them in at the end of a random sentence that doesn't seem at all suggestive. He is about forty but he works in internet marketing... So shouldn't he know better than to use that smiley? It feels weird with him sending me this smiley all the time. For example: HIM: "... Concerned metadata" HIM: "Something else I will have to train you on on Monday." ME: "Okay. Sounds good. I deal with metadata regularly so it shouldn't be too much of a stride." HIM: "Good, then it won't be too difficult then ;)" ME: "I'll be in Friday so we can discuss it then too." HIM: "Will be happy to break it down for you more next time we talk, prefer u are getting paid for that one ;)" HIM: "Sounds like a good plan. ;)" Is this weird? Is he trying to be suggestive? Or is he just smiley-illiterate? And I already know I should quit the job due to his weirdness but honestly, I just got it and it is a great opportunity. So quitting is not an option unless he is being extremely inappropriate in the future.

Get the answers...

Next page: 404 Secrets Review